Wayzata School District is an award-winning district encompassing multiple communities in the western suburbs of Minneapolis.
Recently named the #1 school district in MN by Niche, the Wayzata school district educates 5,029 elementary-aged students, and utilizes 8 elementary schools and 1 early learning center.
Study Objective and Design:
The objective was to evaluate the effectiveness of CalmConnect™ in reducing off-task behavior in elementary, neuro-typical classrooms. The study design was a "pre-post" design, measuring five metrics: not following directions, distracting behavior, talking out of turn/interrupting, moving out of the seat, and being disengaged. Pre-treatment data was collected for one
week (Feb 2018), with post-treatment data collected in weeks 1,3, 5, and 13.
Data was collected in four schools using grades PreK-4. One of the four schools was not exposed to
CalmConnect™ and was used as a control population.
Results:
CalmConnect™ = 81% reduction in all off-task behaviors
CalmConnect™ = 78% reduction in all off-task behaviors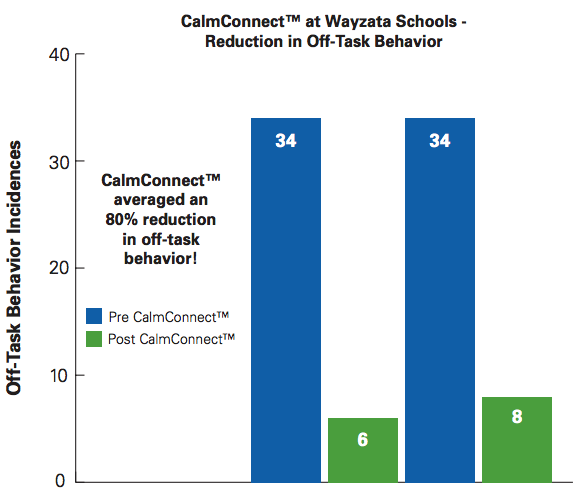 Data and results from this research were presented by Dr. Stacey Lacker (Director of Research and Evaluation,
Wayzata Public Schools) and Dr. Kieron Dey at the Minnesota School Psychologist Conference on January
24, 2019.